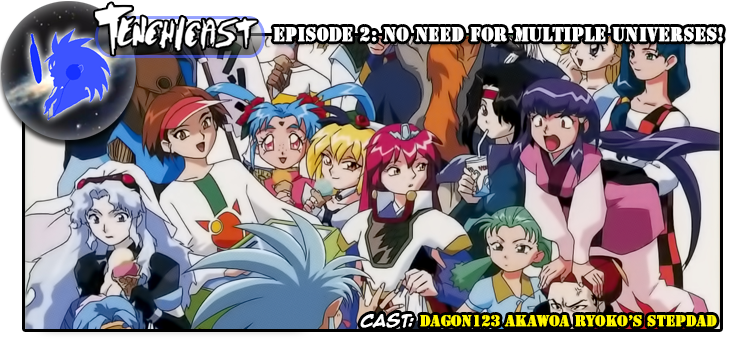 Podcast: Play in new window | Download
Subscribe: Apple Podcasts | Android | RSS
---

In this episode we talk about
Brief intros to each Tenchi Multi-verse and discussion about them
Which Incarnations are our favorites
The Spin-off and Alternate Universes (Which Include El-Hazard and Photon)
---

Episode
2 (Remastered/Director's Cut)
Dagon:
Hey guys, this is Dagon123, and
welcome to…
ALL:
Tenchicast!
(Intro
Music)
Dagon:
Hey guys!Welcome to the next exciting
episode of Tenchicast, presented by
Tenchiforum.com.Tenchi's
universes span far and wide, and today we'll be talking about the farthest
reaching ones.Today I have with me Akawoa…
Akawoa:
How's it going, guys?
Dagon:
…and Ryoko's
Stepdad.
Stepdad:
You're gonna'
learn to love me.
Dagon:
So, what is your favorite of the
main cast universes, and why?
Akawoa:
My favorite is definitely Tenchi Universe. I've always felt that it was a little bit
more exciting, more focused than the other universes, and I like the TV
run-time, because it gave them more time to put in good, long-running jokes and
character development.Obviously,
there's a pro-Ryoko ending that I can't be mad at.
Stepdad:
I'm gonna' have to go ahead and agree with the Universe sentiment.I have to say that, it was probably the most well-rounded of the three universes.It probably had the most excitement, the most
variety, and I would say the best humor of the three.Everybody was involved, you know, it just…it
just felt like everything was "clicking" on all gears, and it's something I can
easily watch over and over again, and if I were to introduce someone (in the
twenty years the original OVA has been out) to the series (Tenchi)
itself, I would say "start with Universe."
Dagon:
And I will agree with that sentiment.To me,
Tenchi Universe really captured what people
loved about all the characters from the OVA, and fleshed those traits out.The word "filler" nowadays has come to have a
negative connotation in contemporary anime fandom.But in Tenchi,
those episodes really helped the characters gain more depth with the fans.Sure, they weren't directly on the plot one hundred percent of the time, but you don't
need to be, because to me, that comes off as lame.
Tokyo had a lot of potential to be a
great series, but started off with slapstick which, in small doses is fine, but
as the main comedy source, turned people off.
But having Sakuya be Tenchi's
main squeeze, right off the bat, when other girls were already there?At that point, no matter how good it is,
it'll never be remembered for what it did right.
The OVA was absolutely great up until OVA3; then the sixteen-car pile-up
happened.What were your favorite
moments from each of them?
Akawoa:
Well, from Universe, my favorite moment was
probably when they introduced Ryoko.It's really tough to nail any one down, because the whole series was
so good (I could probably give you five different ones for Universe) but for Tokyo,
my favorite was the date between Tenchi and Ryoko.That was my
favorite part, because I felt like that brought the most of the "classic Tenchi" aesthetic to us, and it just felt right the whole
time.
Stepdad:
I'd have to say, starting with the OVA, obviously the scene where Washu ties Tenchi up to her machine
the first time and attempts to get the, uh, "samples" with the infamous "let's
shake the dew off this lily" line.
Anytime I watch that, I just say to myself, "This is why I started
watching this show," because that was just…it's unexplainable, because I look
at it, and it's the perfect perversion that gave the series its "umph" and its staying power.I could re-watch that scene numerous times
and still have a big smile on my face.
Um, as far as Universe is concerned—it's
been a while since I've seen that—I would have to agree with another fan: the
three "time and space adventures" episodes.
They all provided a unique look into everyone else's vision of how they
saw Tenchi and where they fit into his life.Some of the girls felt that he was good
husband material and, if I remember correctly, in the Kiyone
arc he was just a restaurant owner as she was trying to find her way (or
something like that) but anyway they were all good peeks into their character.
And  I've… not seen Tokyo (I don't remember most
of it) but I would have to say, that, I remember watching it on TV one time,
and it was something about Ayeka going off on some
tangent about…I can't remember exactly what it was, but all of a sudden,
completely deadpan, Sasami comes out of nowhere and
she says "he only likes you because you have those," and there's a big, red arrow that flashes on the screen
for, like, three times right at her breasts.
Every time I think of that, I just…I cannot stop laughing.
Dagon:
My favorite moments in the OVA would be much of the first episode, "Ryoko Resurrected."
I absolutely love that episode
to death. The part where the gas line
has just blown up: "Ryoko's Theme" kicks on, Petrea delivers the line "Hey, that's no way to treaet a lady!"It's
one of those moments that you come to immortalize as classic from the series.
As for Universe: the last episode, right
around the last five minutes, right
when Tenchi turns Ayeka
down on staying with her on Jurai, goes back to
Earth, and because we had had that emotional low-blow when—spoiler—Ryoko "dies," then for her to come back, Dimension of Love playing, and Tenchi embracing Ryoko in his
arms…I can probably say, as a Ryoko and Tenchi fan, that is probably the greatest moment throughout
any of the series for me.
Tokyo's favorite scene for me was
probably the ending again.One of those
really nice bonding moments between Tenchi and Ryoko, and so
close to a kiss.It's a really sweet way
to end the series.
You know, I want to go on the record right now, and say that I didn't hate Tenchi In Tokyo
whatsoever.Tenchi in Tokyo had the makings of an exceptional Tenchi
series, but ultimately its downfall is that they decided to focus on the
weakest parts of the series, as opposed to its strengths.From what I've heard (and seen from the
series itself), it looks like Tokyo
was originally intended to be a direct sequel to Universe (hence in promos we see Knight Azaka
and Kamidake, Nagi,
Ken-Ohki, etc.) and looking at Yugi and her
backstory, as well as in the very beginning when they said "yay, we were
celebrating our two years together."For
whatever reason, the creative staff thought it would be a good idea to add Sakuya, not only as a main girl, but she also automatically
gets Tenchi's affection and attention (so fans were automatically
going to be against it).
Akawoa:
Yeah,
I agree with that.I didn't really care
much for her at all.As a character, she
was kind of like an empty shell that didn't really—to me—bring much to the
series.She wasn't even like a villain,
she was just a Mary-Sue character that just kind of takes the spotlight away
from everybody.
Stepdad:
"Bella," you say?
Akawoa:
Noike.
Stepdad:
I'm gonna' have to find that and re-watch it, because
even though it wasn't necessarily my favorite because I don't recall a lot of Washu moments in there, but I feel I should refresh
myself.
Akawoa:
Pretty much a large portion of the series, she's just gone for no reason (well, for
"that" reason).
Dagon:
Should each universe in the Tenchi saga have its own original characters?
Akawoa:
Uhh…that's kind of a tough one for
me, because it really depends on the execution.
Like, for example, Tokyo has Sakuya (and nothing else does).I didn't really think Sakuya
was a good character, and I wish they didn't even put her in in the first
place.But, then, we have other
characters like Yugi or Kiyone
that aren't in the OVA canon, but they're really good characters and you almost
wish they were in the OVA.I know I've said many times, I wish they didn't
even do Noike, because Noike
is basically Kiyone, and I don't care what the whole
situation was with…"that" before, because I know a lot of people argue that the
character idea of Noike was made before Kiyone, but Kiyone in Universe came out before Noike, so I don't see anything wrong with putting her in
something like the OVA.It's kind of
nice to see new characters, but at the same time if they're crappy then you
don't really want to see them.It
depends, I guess.
Stepdad:
If you do it, do it with precision, do it with tact, don't do it all at once, have
more than six episodes to do it, and I'll be fine with it.But if you just start throwing all this stuff
at me so fast in such little time, I'm gonna' feel
confused, and I'm gonna' get frustrated, and I'm gonna' wanna' stop watching, or
I'm not going to like your work or characters.
You need to flesh out your characters, and you need to make sure that all of your audience—regardless of
whether they live in Japan, the United States, Canada, England,
wherever—understand where you are coming from.
Dagon:
Before I go into my answer to the question: Kiyone Makibi existed before Noike
did.So many of the "canon elite" will
try and make it out to be otherwise, but Kiyone's
first appearance in 1994 was March 25th.Noike's was in late
1993.But, as you know, anime is not
made overnight, and if we use the argument of "idea conception" (like so many
do for Tenchi's mother in OVA3) she beats both.Besides, everybody cares about Kiyone because she fits.
And if we elaborate on that, the reason characters like Kiyone, Nagi, the Knights fit is
because they fit in with the story perfectly.
They don't change the dynamic of the show, they add to it.Kiyone was the
perfect "ying" to Mihoshi's
"yang."She was the strong-willed
workaholic, Mihoshi the lazy goofball.Nagi fit because
she accentuated and added to Ryoko's character.So many times in anime (I'm looking smack-dab
at you, Haruhi)
the character is no different than any bland moe-tron
character except that she's a god,
and that's supposed to be the ultimate variable that makes them an interesting
character, but there's really no proof of that.
It's all bluffing minus minor coincidence.Ryoko is a space
pirate, so surely she has enemies and rivals somewhere.Who comes out of the woodworks to legitimize
that?The bounty hunter Nagi and her cabbit Ken-Ohki
(again, another perfect circle).Why
characters like Sakuya, and especially characters
like Noike (and most of the characters introduced
through GXP) don't work is because
we're not allowed to have them work their way up to us, the fans.There's no
segue.We're force fed these characters
and told to "deal with it."Characters
who not only retcon and break the dynamic of the show,
they're quote-unquote "perfect" so they're completely out of touch with the
fact that every other character on the show has a flaw of some sort to make
them associate-able, to make them real.
Short of going into an OVA3 rant right now (we'll save that for another podcast), Kajishima is just a terribly sh*tty writer.
The spinoffs and alternate universes that Tenchi is
related to: we have Saint Knight's Tale,
Dual, Photon and El Hazard, and
while El Hazard isn't technically
related to Tenchi per say, it may as well be.It's called its "sister series" (as so many
have coined it).When Hiroki Hayashi,
who was one of the original creators of Tenchi (the
original director) was pushed out by Masaki Kajishima's
"George Lucas syndrome" he went on to do El
Hazard.El Hazard had the same producer, and even had the same team AIC
(and, of course, there's the cameos that happen across both it and Tenchi).Saint Knight's Tale follows Tenchi's half-brother Kenshi on
the world of Geminar.
Dual (to describe it best in
the shortest way possible) is "what if the creator of Tenchi Muyo! did his
own version of Evangelion?"Great Mech series
that follows the character Kazuki Yotsuga
and his visions of giant Mechs from a parallel
universe.I haven't actually seen Photon so I'll let you take the reins, Akawoa.
Akawoa:
Alright, well Photon's kind of a more obscure
spinoff (to most people).A lot of
people haven't really heard about it, and I believe it's out of print right
now.But it's about a guy named Photon
(Photon Earth) and he lives in a small village on…I don't remember the name of
the planet.His friend writes with a
marker the word "baka" on his head (Japanese for
"idiot") and then he goes out into the forest, and he's just kind of screwing
around, and then he ends up falling into this cave, and in the cave he finds
this person named Keyne in a…it's almost like a
pod.He has a marker in his pocket, and
when he sees her, he writes "baka" on her forehead,
just for fun, and apparently, on her planet where she came from, if two people
have the same thing written on their head, they're engaged.So she sees that they both have the same
thing on their heads, and she…she's kind of like a Ryoko
character.She takes it to mean they're
engaged and just latches onto him, hangs around him and for the rest of the
series they're…well, they don't really know it for most of the series, but
there's a guy who's kind of like Kagato, but goofier, and he has goofy alien minions that
kind of look like weird, chibi-monkey things.He's trying to take over the world with this
orbital-array device and…it's all craziness from there…but, it's kind of like Tenchi, but more goofy, more slap-stick, more fun (not that
much ecchi, but kind of like GXP without as much ecchi.
Dagon:
And then there's El Hazard, which follows
Makoto, a young boy who finds the ruins of an ancient civilization in his
school—or, stumbles upon them, rather—after being attacked by Jinnai (one of
the show's main antagonists) and is transported to the mystical magnificent
world of El Hazard.The show is great,
and it's one of those shows where the dub is so good that it's considered
unanimously among the anime community as being better than the sub.
So, what is your favorite of all of these?
Akawoa:
My favorite—which, if anybody talks to me for any period of time about Tenchi spinoffs will know—is always going to come back to Saint Knight's Tale.I just felt like that series was Kajishima channeling his "inner original OVA Tenchi" in a more modern setting.I just love all the characters, the villain
is great, the story is great…there's ecchi in it, but
not to the point that it made me tune out the series.The comedy is great too, it's very
reminiscent of early Tenchi comedy…and it has Mechs, too, so I mean, it really covers all the bases.There's not much more I can say other than I
want a U.S. license release so I can buy the box set, because I would buy it
right now if they released it.
Stepdad:
The only thing I can be able to say is I probably have three or more series I need to watch.
Dagon:
Which one is my favorite? Oh man…that's a
tough one…see, I'm an optimist; I try to find the good in everything,
especially when it comes to anime.Each
of the series here had something about them that made me like them: Dual is for the Mech
junkie, but it's funny, and Eva fans
will greatly appreciate it.Saint Knight's Tale (also a great Mech series) is set in a nice fantasy setting, and has
great characters.El Hazard is phenomenal as well.
If anybody could stand toe-to-toe with Tenchi,
it would be El Hazard.So, I think that's my answer.From the moment I saw El Hazard I was captivated.
The characters are awesome and unique, and the dub hits an absolute
grand slam between Jinnai's one of a kind laugh to Mr. Fujisawa.Any downsides, in my mind, are completely
swept under the rug with the outstanding performance the dub cast did.
What were your favorite, or most stand-out moments, from each series?
Akawoa:
Uh… that's a tough one.You know, there's going to
be a couple of them, but if I had to nail one down, just off the top of my
head, blind-fire, I would say…there's this really awesome fight scene (I think
it's either episode seven or eight, it's been a little while since I watched
it) where Kenshi just destroys so much, and you're just like "holy crap, dude, he's such
a beast!" and then all of a sudden, he goes into "rage mode" and he just grabs
this other Mech with his Mech,
and the guy's just got snot pouring down his face, he's like "Aaaah!Oh my
God!Oh!" [laughs].I don't know, for some reason I found it
humorous, but…it just really stuck out in my mind as a really epic, badass
"holy sh*t that guy is cool" moment.That was really exciting to me.As for Dual,
my favorite moment is…there's this really epic final moment at the end where
they—I don't want to spoil it for anybody (if you've seen it, you'll know what
I'm talking about)—kind of relate to the bigger picture.They're talking about Zinv
(Jinbu, however you want to say it) it's just
really…it feels really reminiscent of an Evangelion moment, the way he
hints at it, and it just kind of takes your head and turns it upside down.That really solidified it for me, after I
watched the series, and looking back on it, I really love that series.I love all
the spinoffs (aside from GXP).
In El Hazard, my favorite moment was
probably when they introduce…I'm sorry, I forget the name, I've watched a lot
of things since then…the teacher?Dagon,
if you could help me here—
Dagon:
Mr. Fujisawa?
Akawoa:
Mr. Fujisawa!When they discover that his
powers only work when he's sober (or work best when he's sober).That was just hilarious to me, because he
obviously loves to drink…it's so ironic to me, I just loved it.
Photon…uh…for most of the series, it's
kind of…I don't want to say small-scale, but…it's kind of like Tenchi, where it doesn't shove anything big in your face
for a while, and then at the end, you see the bigger picture.Anyway, at the end there's this really great
moment when they're in space, and you just see this giant Mech
thing, and you just kind of really get this sense of scale as it pans back: you
can see the planet in the background, and there's this giant Mech, and you're just thinking in your head "how is he
going to beat that?" and it just looks really
cool.It's really hard to explain, but
yeah.
Dagon:
In Dual it's more of a small-scale
moment, but when Kazuki gets knocked down in the Mech for the first time, and he has this moment of complete
helplessness.His eyes are shaking back
and forth, and everyone's screaming at him to get back up.It's moments like that that I love, because the mask is taken off; there's no script,
per say, it's just "what the hell do I do?" It gives him more humanity.
I haven't seen Photon, so I can't
answer there.
In Saint Knight's Tale (I don't want to
give away too many spoilers, so suffice it to say): when the character Dagmyer gets his comeuppance…oh man, is that a good
moment!One of those "I've been waiting
the whole show for this moment"
moments.
Finally, at the end of El Hazard 2 (or,
towards the end of the second OVA), I don't want to give spoilers away again,
but Makoto is being chased by the girls, Fujisawa also happens to be running
away from someone, and they run into each other, and Fujisawa says, "What do we
do?" and Makoto says, "Sensei, what did the Confederacy do when they were
losing?" They both look at each other and yell "Retreat!" and they book it in
the other direction, and I laughed so
hard at that.Just the way the music
was, and the goofiness…I was almost in tears from that scene.Of all the references, just a hilarious
moment I'll never forget.
Well, thank you guys for coming in.Do you
have anything you want to add?
Akawoa:
I would say, if anybody hasn't watched the spinoffs to the series, and is looking
for something good to watch, then they should definitely look into all of the
spinoffs we mentioned here today.If not
for the sake of watching a new show, then for the sake of catching the
references to different series, and just for the fun of it.You get to see similar character development
in each of them.So I'd go for it.
Stepdad:
Don't do drugs.Stay in school.And always, always listen to your grandparents (even if he is a perverted old
man).
Dagon:
Until next time…stay gold!
(Outro
Music)