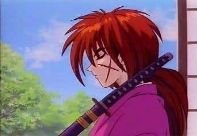 - Sun Oct 12, 2014 9:38 pm
#25298
SnowQueen wrote:Here's a fun idea! Which Tenchi member would be who in the El-Hazard universe?
Intriguing!
I think the "snooty princesses" cancel each other out

"Lord god-Emperor" Jinnai has no equal! But the closest Tenchi-verse comparison I can think of personality-wise, on the surface (I'll get you main character! cuz I'm so jelly!"), I'd say Seiryo? (May Katsuhiko forgive my insolence.)
Shayla Shayla...firey personality, has a crush on main character...come on, it's gotta be Ryoko.
Nanami's tough to peg: she's got the "plain, girl-next-door" appeal of Sakuya, the fun-loving attitude of Sasami, the bashful "what makes you say we're dating?!" demeanor of Ayeka, and like Kiyone she has a level of professional pride which causes her to lament whenever she's gotta "do what she's gotta' do" to earn a buck (but she doesn't just give up).
I'll save the rest and/or additional interpretations for others. *passes mic