by
JGZinv
- Tue Aug 19, 2014 10:41 pm
- Tue Aug 19, 2014 10:41 pm
#24686
The Dual! Facebook owner is going to a con and needed info on Zinv, to go against TTGL, so I threw some things
from around the web to my own notes together and made the following.
Zinv (written) (pronounced Jinbu) Capabilities.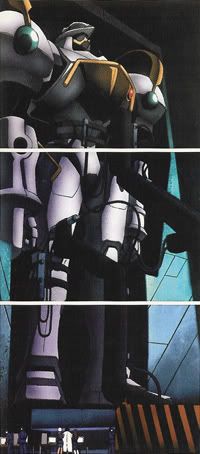 Body:
Reinforced ancient material by space faring race.
Nano fiber self regeneration
High velocity movement
Resistant to force fields and gravity
Attacks:
Regular Abilities -
High velocity slash and movement
Gravity Cannon - armor penetrating, pulse wave and shot blast.
Lightning Blast - area effect, penetrating.
Gravity Crush - grabs an enemy and compresses them to mangled bits.
Punching, stomping, claws, rips other mechas in half.
Shield Piercing
After Limiter Removed -
Create Black Hole - creates gravity well for defense, absorbs damage, can expand and draw enemy into it.
Shield Piercing (upgraded)
Self-Regeneration, even from detonation of a black hole that destroys a planet/dimension.
Shield - Contact with shield dissolves attacks or objects into nothing.
Dimensional Travel - transport self and others to alternate dimensions, merging them.
Gyser of Power? - Summon a column of energy destroying the area around the mecha - short duration.
See list of LHW capabilities below for more on those.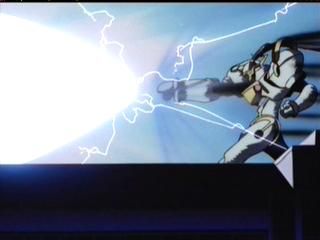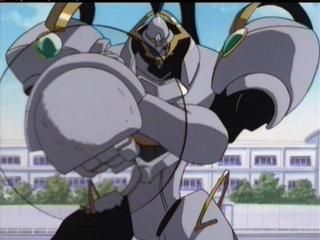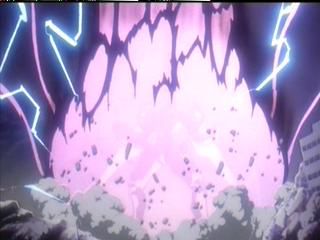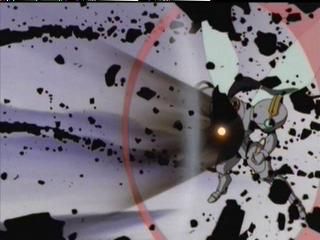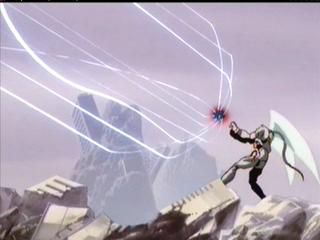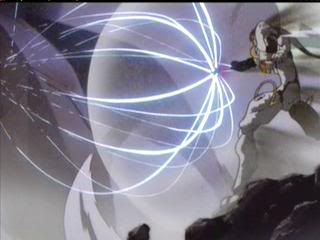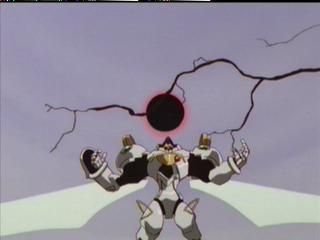 Power source:
1st generation Juraian tree seed
Where do the royal trees get their power
?
All of the royal trees obtain their power via subspace from the original tree Tsunami, which contains all of Tsunami's Choushin powers. Tsunami's tree offspring are known as 1st-generation trees. The 1st-generation tree's offspring are known as 2nd-generation trees. 2nd-generation trees produce 3rd-generation trees and 3rd-generation tree's produce 4th-generation trees. 1st- and 2nd-generation trees have the ability to generate Light Hawk Wings, a manifestation of the Choushin power which are used primarily for defense. Tsunami (ship) can be considered the ultimate ship of Jurai, and has a maximum of 10 light hawk wings, as that is the maximum our dimension can support without disastrous effects.
What's a "Choushin"?
"Choushin" refers to the three most powerful deities in the universe: Tsunami-sama, Tokimi-sama, and Washu-sama. Kajishima-sensei says that Tokimi is currently the most powerful. This is because she controls the power of the Choushin and can cut Tsunami and Washu off, preventing them from acting (as seen in episode 19 of TM!R).
How powerful are the royal trees and Jurai powers in general? What are the greatest feats of power?
A single 4th- or 5th-generation ship is more than a match for any vessel that any other space-faring nation can build. 6th- and 7th-generation Royal Trees can power a colony by themselves. It takes a big power supply equal to that of a star to overwhelm a single light-hawk wing. A Juraian ship is capable of destorying a planet with a single shot. Z explained the true nature of the Light Hawk Wings later in the series; they are our universe's manifestations of energy from a higher plane of existence. 1st Generation trees can create a maximum of 3 LHW.
How do the tree-ships work?
The royal trees are sentient beings. As such, they choose whom they will partner with (and there is a ceremony for this). Once a tree is partnered, a ship is then constructed which can access the tree's power. The tree is placed into a core-container and container is inserted into the newly constructed ship. The tree creates a subspace region and designs the environment to suit the tastes of the partner (the living quarters).
To enable better synchronization the connection between the partner and the tree, a key is made from a branch of the tree. So each tree has a key which is kept by the partner. The shape of the key is dependant on the branch used and the taste of the partner. 1st-generation tree's keys are "master keys" which can take control over 2nd-generation trees and lower in cases of emergency.
Partners for life.
With the first three generations, the tree is the one to choose the partner. The Juraians have no say in the matter when it comes to which tree partners with which person.
Sometimes a tree will send a telepathic call to the Juraian whom it has chosen. Sometimes, a Juraian (or other potential partner candidate) will be brought into the arboretum within Tenju for a tree selection ceremony. Either way, the event is witnessed by at least three representatives of the Royal House. There are very few cases where the candidate is allowed to proceed to the 1st-gen level. Azusa and Yosho are two such individuals who were chosen by a 1st-generation tree. In the history of Jurai, only five people have been partnered with a 1st-gen tree.
Once a tree chooses the candidate, the candidate then names the tree. The tree is placed into a special core container with the interior designed by the partner. A ship's hull is also constructed to the partner's specifications. The core of the ship is used to control the power of the tree. Once ready, the core containing the tree is placed within the ship's hull. The hull acts as a channeling device for the tree's power.
Another benefit of being partnered with a Royal Tree is the extended life the tree provides via body strengthening and life extension treatments, as well as the Water of Life, which helps to rapidly heal the partner. The Royal Tree can provide backup power to its partner in combat situations. Power is supplied to the partner and at the lower-level generation trees, the partner can activate Light Hawk Wings (as seen in Yosho's battle with Kagato in episode 5).
With rare exception, Royal Trees are partnered for life with a single partner. There are a couple of incidents which can break the bond between the Royal Tree and its partner. One being death and the other being banishment from Jurai. In both cases, the Royal Tree is then removed from the core and planted in the ground. Once planted, the tree is cut off from Tsunami's power and thus slowly turns into a normal tree.
LHW Capabilities:
Complete immunity against brute force attacks short of universe busting (Z)
Ability to erase beings/objects from existence (Z/Tenchi)
Ability to completely nullify regeneration (Tenchi against Kagato)
Ability to cut through dimensions (Tenchi cutting the Souja)
Ability to transform into different shapes - swords, shields, tendrils, planar explosions that expand at super speed and destroy everything in their radius, even things they don't directly hit, huge intricately patterned shields (Z, Kamidake II fused w/Mizuki)
Ability to create, harness, and uncreate black holes (Zinv)
Ability to freeze large groups of enemies to paralyze their movement (Idol mecha, Mikagami)
Ability to reach through dimensions and pull things out of hyperspace (Idol Mecha)
Ability to move/react at hundreds of times c and track objects moving that fast, even through teleportation (Z)
Ability to travel between dimensions (Z)
Ability to travel between universes (Z)
Ability to travel through time (Z)
Ability to teleport anywhere in the universe near instantly (Z, Tenchi)
Ability to rearrange energy and matter, like transmutation (Z changing Mihoshi's letter)
Ability to fire planet - destroying energy blasts (Z)
Ability to create space shockwaves that can destroy entire fleets of ships and remove matter from existence (Z)
Allows the user to transform their body into light (Z)
Allows the user to regenerate injuries/damage (Tenchi, Z, Zinv, Idol mecha)
*Can create a weaker "sub - LHW" with most of the same properties that is always active (Juraian ship Sheaplis from the Washu novel)
Ability to completely negate the infinite gravity and time dilation of a black hole beyond the event horizon, this would also allow for breaking out of timestops (Tenchi)
Ability to expand the LHWs to shield others nearby (Tenchi, Juraian ships)
Allows the user to sacrifice their LHWs to cancel out those of their enemies (Z)
Material conversion allows them to transform energy and matter into any state (Tenchi only)
Ability to restore destroyed objects/beings to their original state (Z)
One user cannot have more than 10 in the third dimension or it will not be able to handle the power and be destroyed (Tsunami)
Ability to weaken dimensional barriers and then chose which elements of two collapsing universes will be recombined in a new one (Zinv)
Ability for a user to regenerate after their own destruction, even in a destroyed universe, and reconstitute themselves in a new one (Zinv)
Destructive power great enough to easily destroy a ship the size of a small star (Kamidake II fused w/Mikagami against the Daruma pirate guild headquarters)
Ability to negate bad luck/probability manipulation (Idol mecha)
See also: GXP / The Idol
The Idol was a mecha nearly identical to Zinv, found on the Wau planet. Described as the warrior god that had been piloted by
a hero in the distant past who had saved the indigious culture there. The mecha did not have a tail whip of hair, although it had a nub. It also had energy emitters and slightly different armor in places, as well as a lot of battle damage. The glowing eyes were also different.
During the battle with the Terrant Shank pirate fleet, the Idol was under heavy attack and falling apart from a laser bombardment powerful enough to destory the planet. The hybrid Juraian / GP ship Kamidake II dissolved and merged with the Idol to grant it further power and abilities. Light hawk wings were deployed, the armor regenerated and formed new parts and emitters. Idol then sucked the bombardment into a black hole, teleported to space from the surface, and emitted a destructive field that damaged the fleet. Simply passing by ships was enough to obliterate any ship that got close.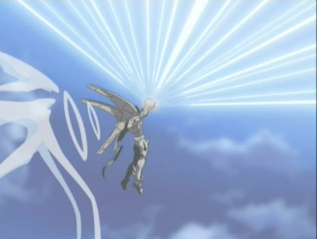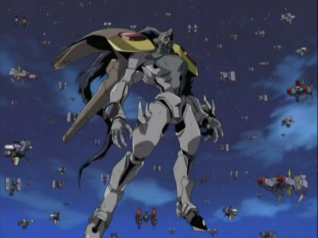 Terrant's ship escaped to hyperspace, only to be grabbed and ripped back into normal space, and crushed by gravity attack into a tiny ball.
Later on, Jurai's royalty inspects the Idol and inquires of Tsunami, why it has a 1st generation seed powering it. The answer is that Tsunami gave an interstellar traveler two first generation seeds over a billion years ago, and the Idol is one such seed. The power and rank of the seed, gives Seina Yamada lineage to be third in line to the Jurain throne.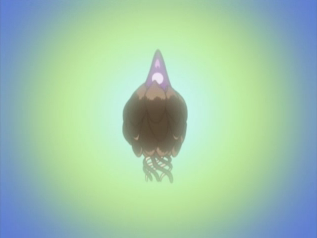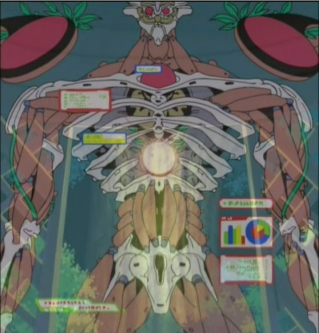 It's also worth noting that all Juraian tree ships, including Zinv and Idol, have "core units" - in the case of the mecha it is the jewel area of the chest piece going back with the cockpit. For a regular Jurai tree ship, it is externally like a oval or lozenge shape, while internally it is a sectioned off space, with nearly anything inside as the interior "living area" for the owner.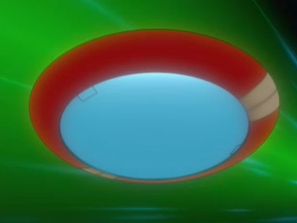 Core units are referred to differently in Dual, because they are artificial interfaces that Commander Sanada tries to use to link the pilot and the mecha. Sounds awfully similar right?
Really a Dual Parallel World?
In short, in Kazuki's case, his father found the "bonding plate" or "key" in Juraian venacular, and in the universe he kept it, it came in contact with Kazuki after he was born or during pregnancy, and bonded to him.
This formed the link to Zinv in the parallel world and is why he could see visions. It is also the reason Kazuki can circumvent the limiters on core robots and other mecha, because he has the 1st Gen key bonded to him, even if it isn't physically with him. You could also extrapolate that the bonding plate could have been the reason World A was merging with World B, since Kazuki and Zinv was in B.
This is also why Kazuki felt "heavy" or sick after returning to World B, as the dimensional flux was disrupting his connection with Zinv, and throwing off his Life Sympathy (will / mental connection).
Zinv also was sentient, and could telepathically speak to Kazuki, which is why he ofen spoke to Zinv. In GXP and other Tenchi series, the high level trees can all communicate. Idol also had a brief scene where it appeared to lure or speak with Seina. Zinv speaking is also directly referenced in the AIC commissioned Dual comics by Azuma Kiyohiko.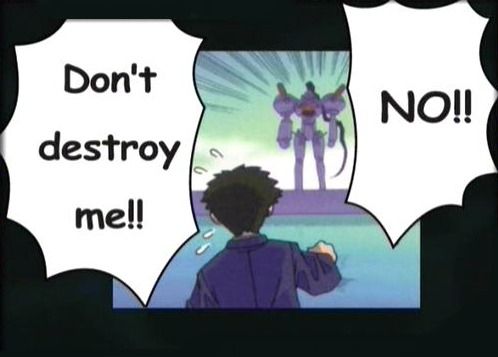 Going back to the doujinshi, D's civilization was a group that had lost their homeworld to pirates (possibly Jurai, prior to them creating a pact with Tsunami) and fled to create a new life on earth as sort of an Atlantis knock off. They had shield obilesks surrounding their city and also guardian robots with cannon emplacements. By D's admission, she stole Zinv and fled during a conflict that had killed her friends. It is impled that the Jurain battleship (Artifact battleship) sent the original HIMC (D's flashback of the city falling), and then would have pursued D, who fled in the Artifact Warship with Zinv in his "sanctuary" on board the carrier.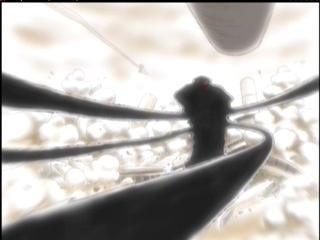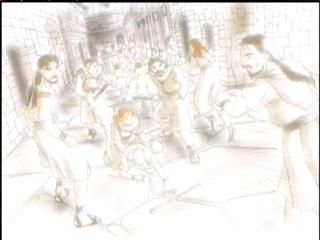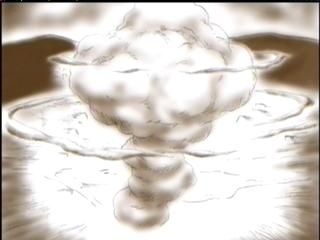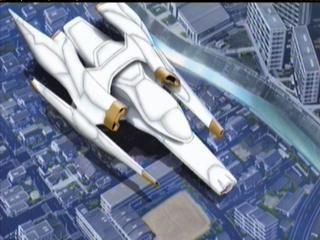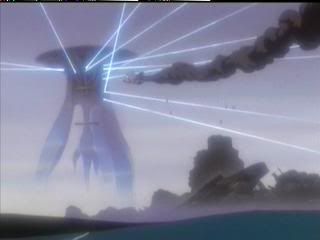 It's conjecture, but it would seem that they would have gotten up to space, the warship sustained damage, then crashed back to earth with the battleship following, but also possibly damaged. The battleship was left hidden in the ocean, the crew's fate unknown. It's important to note that it would seem that the Jurain battleship would have likely been just after the pact with Tsunami, and Jurai was still a pirate guild itself. So for them to come across a lower tier civilization, with a 1st Gen seed radiating signals, they most likely would attempt to retrieve it by force.
The Artifact warship however, Zinv took D into his helmut and preserved her heavily damaged body and soul. Hiroshi Rara and Ken Sanada found the artifact at the construction site (the mini saucer, likely the landing craft of the Jurains), Ken made off with a copy of the data there while Rara took over the site and resultingly found the battleship's hidden island and access hatch. Ken however, went on to find the warship under the city hall dig site, cloned D's DNA and made a body with 3 unsuccessful attempts, the forth became D, when her soul bonded to the form finally. D's real body was still kept in Zinv, slowly regenerating, until the final battle. It's worth noting too, the whole "EDF base" is the warship, just under city hall, until it surfaces later on.
It's also likely that in reality, World A and B were destroyed, and Zinv was a center point to finalize that destruction. Zinv can transcend dimensions, regen, and change matter. However, we have never seen a Juraian tree of even the 1st generation essentially "transmute" or create, a new dimension. I do not believe it has that power, only the Chousin or kami level Tenchi would.
So it is likely that one of two things happened. 1. World B characters were merged with their counterparts in another dimension in the multiverse, resulting in the Dual memories and different lives (ie why Akane is Ken's wife, why Ayuko is Akane's sister, Kazuki's 3rd world alternate memories, etc). 2. That we are looking at a multiverse dimension that just so happens to fit the exact sequence, so the characters recall being of another world, ie Butterfly effect. 3. The two earths were put under matter conversion via LHW, and everything was rematerialized. But this doesn't account for the memories issue.
Of these, of course Option 1 sounds most likely and fits the whole saga as well as being tongue in cheek.
Really, you just have to realize that Dual adopts much of the Tenchi technology. The key to understanding it is that Dual characters are from earth and have no knowledge of Jurain / Tenchi terms, so they make do by calling it other things.
We are still small flowers without names. We are small beings that finally budded,
supported by those larger than us. But we dream... of the day when we will eventually
blossom under the wide open sky.