- Wed Apr 02, 2014 4:54 am
#23022
Spurred by our discussion last night, I took a poke at two pages regarding some details with how long it took Ayeka to break down and give chase to Yosho as well as the Jurian aging process compared to a human's. Nobuyuki provided a few links to some scans. It is 5AM here so I'm having trouble figuring out some of the text but I got a good majority of it translated. The most relevant stuff to the specific discussion is on the first page, though one of the most important lines (seems to be a statement related to the passage of time) is eluding me at the moment. Maybe one of the others will come in and patch up what is missing, else I may give it another shot later today.
Question: 阿重霞が Ayeka
時間凍結していた理由 Why did she freeze herself for a long time?
Answer: 微妙な女心 Complicated female instincts
天地無用!魎皇鬼 Tenchi Muyo! Ryo Ohki
阿重霞編 Chapter: Ayeka
解体(two indecipherable characters)四八
龍皇に乗って、兄、遙照の行方を追っていた阿重霞。
Ayeka rode on Ryu-Oh and followed her elder brother Yosho's whereabouts.
樹雷星の人間は長寿であるはずなのに、たった700年程度(!)の時間 を止めていた(もちろん、皇家の樹のカにょって時間凍結はなされていた 理由はなぜなのか?
Although a being of Jurai lives a long life, what is the reason for the 700 year (!) time freeze?
梶島「確かに、阿重霞にとってみれば、700年というのは地球人にとって の2、3年程度なんですね。
Kajishima: "If I remember correctly, for Ayeka 700 years is what 2 or 3 years would be to an earthling.
けれど、多少なりとも昔の姿のままでいたい、 という女心がそうさせたんですょ」
Although, " ******
破壊魔(魎呼)を追って、樹雷星を出発した遙照を、阿重霞はすぐに追ったわけではない。
Ayeka did not immediately follow Yosho, who departed the Jurai star for the destructive evil sprit (Ryoko).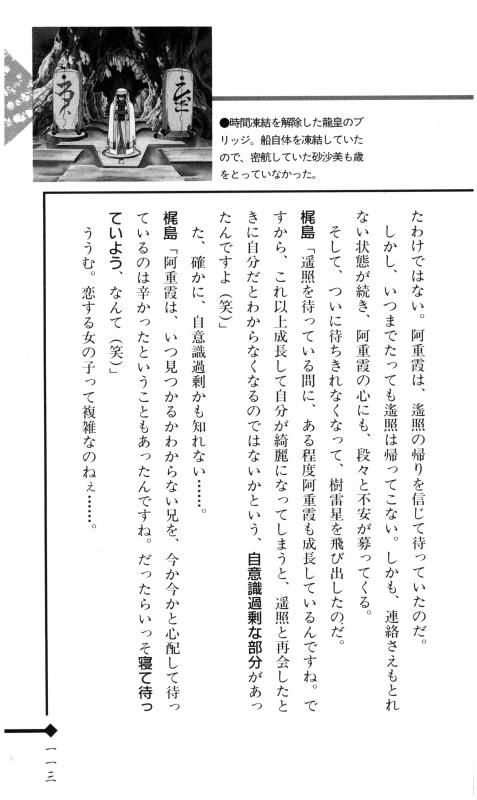 阿重霞は、遙照の帰信じて待つていたのだ。
Ayeka had faith in Yosho and waited.

しかし、いつまでたつても遙照は帰つてこない。
However, Yosho never returned.
しかも、連絡さえもとれない状態が続き阿重霞の心にも、段と不安が募つてくる。
Moreover, the condition where communication cannot contact continues, the heart of Ayeka fills with anxiety.
そして、ついに待ちきれなくなって、樹雷星を飛び出したの•だ。 ******
梶島「遥照を待っている間に、ある程度阿重霞も成長しているんですね。ですから、これ以上成長して自分が綺麗になつてしまぅと、遥照と再会したと きに自分だとわからなくなるのではないかといぅ、自意識過剰な部分があつ たんですよ(笑)」 Kajishima: "While waiting for Yosho, Ayeka grows up as well. ******
た、確かに、自意識過剰かも知れない……。
Which may be overly self-concious......
梶島「阿重霞は、いつ見つかるかわからない兄を、今か今かと心配して待っ ているのは辛かったといぅこともあったんですね。だったらいっそ寝て待っ ていよう、なんて(笑)」
Kajishima: " ******
ぅぅむ。恋する女の子って複雑なのねえ……。
The girl who falls in love is a complicated one......