- Fri Aug 29, 2014 9:56 pm
#24797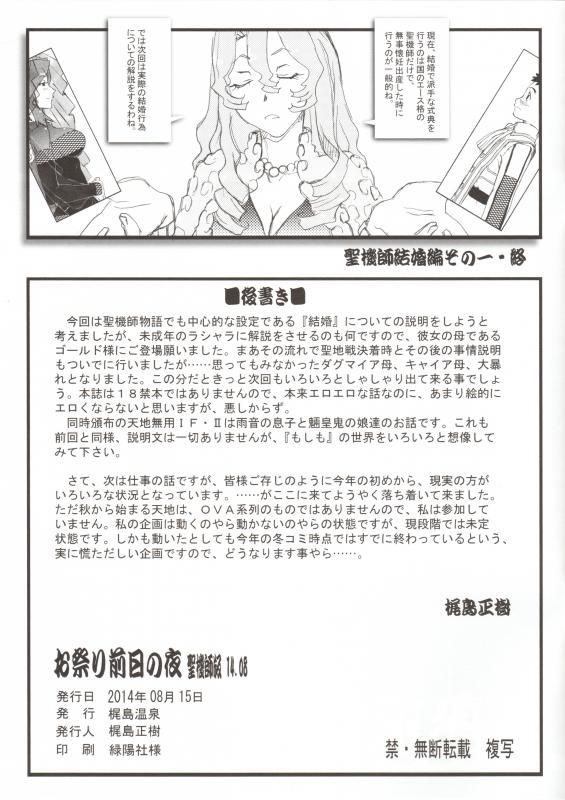 Afterword Page
Rightmost bubble:
現在、結婚で派手な式典を行うのは国のエース格の聖機師だけで、無事懐妊出産した時に行う
のが一般的ね。
They are presently holding a very flashy wedding ceremony that only the very best Seikishi in
the country get, typically given when they safely deliver a child.
Leftmost bubble:
では次回は実際の結婚行為についての解説をするわね。
So next time, I will explain the actual act of their marriage.
聖機師結婚編そのー ·終
Seikishi Marriage Volume 1 - End
Afterword
■Afterword■
今回は聖機師物語でも中心的な設定である『結婚』についての説明をしようと考えましたが、
未成年のラシャラに解説をさせるのも何ですので、彼女の母であるゴールド様にご登場願いま
した。
Isekai no Seikishi Monogatari is the setting this time. I would have already explained the Seikishi marriage process but upon Lashara's golden mother appearing, she desired not to
have her underage daughter exposed to such things.
まあその流れで聖地戦決着時とその後の事情説明もついでに行いましたが……思ってもみなか
ったダグマイア母、キャイア母、大暴れとなりました。
After the Holy War ended certain events came to pass ……. but you never would have guessed that Dagmyer's mother and Chiaia's mother had become enraged.
この分だときっと次回もいろいろとしやしやり出て来る事でしよ う。
I will be sure to put all of my effort into this the next time.
本誌は18禁本ではありませんので、本来エロエロな話なのに、あまり絵的にエロくならないと
思いますが、悪しからず。
Because this Doujin is not restricted to 18+ audiences, I am unable to write out the erotic story I had planned nor the pornographic drawings, please understand the situation at hand.
同時頒布の天地無用IF·IIは雨音の息子と魎皇鬼の娘達のお話です。
The simultaneously released doujin Tenchi Muyo -If- II is about the story of the son of Kaunaq
and the daughters of Ryo-Ohki.
これも 前回と同様、説明文は一切ありませんが、『もしも』の世界をいろいろと想像してみて
下さい。
Though, just as the last time, there is no full explanation in "If", so please read and try to imagine the world it depicts.
さて、次は仕事の話ですが、皆様ご存じのように今年の初めから、現実の方がいろいろな状況
となっています。
Now then, next up is the topic of my work. As everyone knows, at the beginning of this year many situations were occurring back to back.
……がここに来てようやく落ち着いて来ました。
…… But things have finally calmed down.
ただ秋から始まる天地は、OVA系列のものではありませんので、私は参加していません。
The new Tenchi series starting in the fall has nothing to do with the OVA series, and I have nothing to do with it.
私の企画は動くのやら動かないのやらの状態ですが、現段階では未定状態です。
Is my project currently moving forward or not moving forward? As of right now, it is currently undecided.
しかも動いたとしても今年の冬コミ時点ではすでに終わっているという、 実に慌ただしい企画
ですので、どうなります事やら……。
Furthermore, I'm trying to quickly finish this project in time for the winter Comiket before it's too late……
-Kajishima Masaki
Omatsuri Zenjitsu no Yuri Sekiahi Ban 14.08
Date of issue 8 -15 -2014
発 行 梶島温泉
Publication Kajishima Onsen
発行人 梶島正樹
Publisher Masaki Kajishima
印 刷 緑陽社様
Printing Ryokuyousha Co.
禁■無断転載複写
Unauthorized reproduction prohibited
When we were young, we lived in the limelight.

Whenever I looked over, my buddies were next to me.
Our world was feverish, red hot.

Far, far away, back in the era of dreams,
we once burned brightly as the sun.